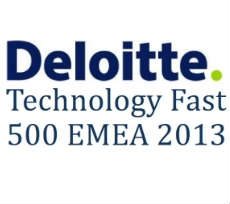 CM is acknowledged as a fast grower in Deloitte's prestigious Fast 500, the 500 fastest growing technology companies in Europe, the Middle-East and Africa (EMEA). The list is based upon companies' revenue growth over a period of five years.
Companies included in the Fast 500 list, Deloitte says, are 'cutting edge'. "These are the innovators." The past five years CM exhibited a growth of 391 percent in revenue, which puts CM on place 376 of the Fast 500 list.
The Deloitte Technology Fast 500 EMEA program is the region's most objective industry-ranking to focus on the technology field, recognizing technology companies that have achieved the fastest rates of revenue growth in Europe, the Middle East, and Africa during the past five years. 
---
---
Enjoyed this article? Please share the news!