Goal
Send WhatsApp Free-form messages using Campaigns.
Product
Messaging
Steps
Free-form messages (i.e. any non-messages templates) are responses to user-initiated messages, which can be any type of message within the 24-hours response window. To send a message outside the 24-hour response window, you must use a pre-approved message template (also see How do I create a WhatsApp message template?)
The advantage of free-form messages is that they do not need to be approved by WhatsApp and that they are completely free because you make use of the 24-hour response window. In this help center article we will give you a step by step guide on how to send these messages.
Freeform WhatsApp campaigns can be set up in a variety of ways, but there are a few steps that should be taken regardless of the chosen setup:
1. You need an up and running WhatsApp business messaging account.
2. Choose your conversation routing to make sure that our business messaging API knows that your recipients are in the 24-hours window. (Professional Services support required – Reach out to your CM.com contact person)
3. Starting the conversation. Before you can make use of the 24-hour response window, you need to make sure users are sending you messages.
4. You need a segment / list where you are going to send the free-form messages to
5. Engaging with your audience
WhatsApp business messaging account
Before you can send any type of message to you recipients you need to have an onboarded WhatsApp Business messaging account.
Conversation routing
You can set up your Freeform WhatsApp campaign in multiple ways. You can choose to redirect incoming WhatsApp messages directly as incoming events to your Customer Data Platform or opt for creating a nice and welcoming chatbot flow that accommodates your need. Our professional services team can help you set up your campaign just the way you want it!
Starting the conversation
It all starts with receiving a conversation initiation message from your audience. Users can send your business messages either directly, in response to a templated notification or opt-in via an easy-to-use template that can be setup with Pages.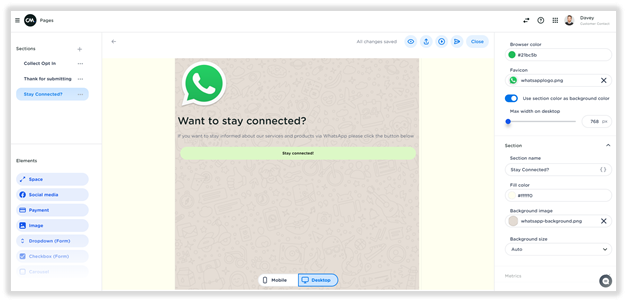 The button will redirect the customer to their trusted WhatsApp client on desktop (image below), or mobile from which they can start their conversation with you.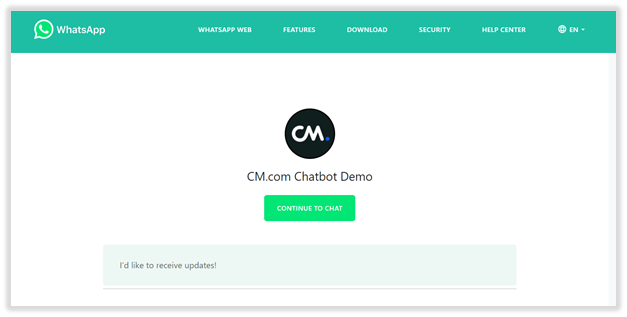 Creating a segment / list
Once your conversation routing is set up correctly, your Customer Data Platform will receive events from anyone who sends you a message. Based on these events, you can then create a segment with all the people who are in the 24-hour response window.
The 24-hour window segment can be established by selecting your predefined incoming WhatsApp event and setting the occurrence to at least 1 time where last N days is 1

After you've created your segment, make sure to synchronize to Address Book!
Engaging with your audience
This is where the fun begins! Open Campaigns and design your (triggered) campaign the way you want it. The Freeform WhatsApp editing mode can be found directly under the WhatsApp template selector, where it says: 'Freeform WhatsApp Message'.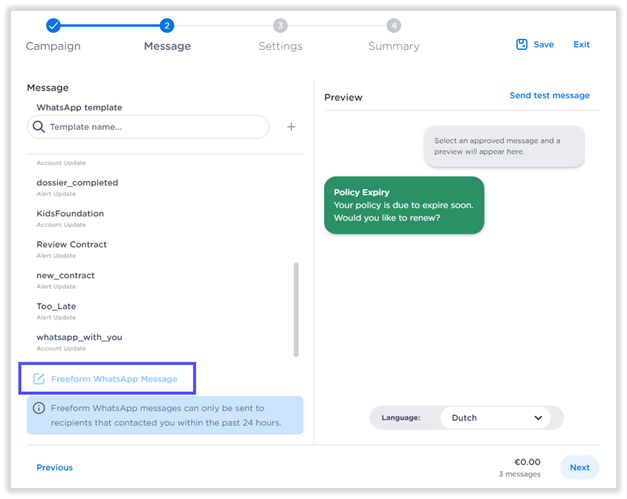 Don't forget to make use of media types, such as images, videos, audio and documents to add some more flavor to your message!
You've now sent you free-from WhatsApp message! Perhaps this was a little too technical for you? No problem, feel free to reach out to your contactperson for a Professional Services !